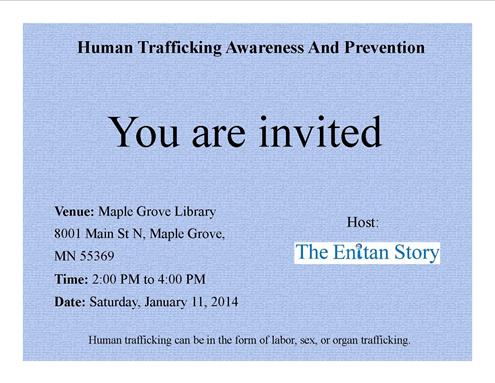 Join us for human trafficking awareness and prevention event on Saturday, January 11 at the Maple Grove library. Our Guest Speaker is an immigration attorney, Salima Khakoo. She will give insights on what is required to file a petition for victims of human trafficking successfully. She is a verse and seasoned immigration attorney in the state of Minnesota. See her bio below.
Salima Oines Khakoo is the CEO and Managing Attorney of American Dream Law LLC, located
in South Minneapolis. Raised in New York City, Ms. Khakoo received her Bachelor's Degree with honors at Hobart and William Smith Colleges in Geneva, New York in 1993. Thereafter, Ms. Khakoo attended the Humphrey Institute of Public Affairs at the University of Minnesota where she received a Masters of Arts in Public Affairs in 1997. Ms. Khakoo served as the public policy coordinator of the YWCA of Minneapolis for several years and was admitted to the Minnesota bar in October 2002. She received a J.D. Degree (Cum Laude) in 2002 from Hamline University School of Law, in St. Paul, MN, and served as Primary Editor of the Hamline University Journal of Public Law and Policy. Ms. Khakoo was published in the Hamline Journal of Public Law and the William Mitchell Law Review. As Contract Attorney for local non-profits, Civil Society and Access Justice, Ms. Khakoo is actively involved in legal options for human trafficking and other crime victims. Ms. Khakoo is an adjunct faculty at Hamline University School of Law and William Mitchell College of Law. She also serves as a mediator for her religious community's Conciliation and Arbitration Board, handling marital and commercial disputes.